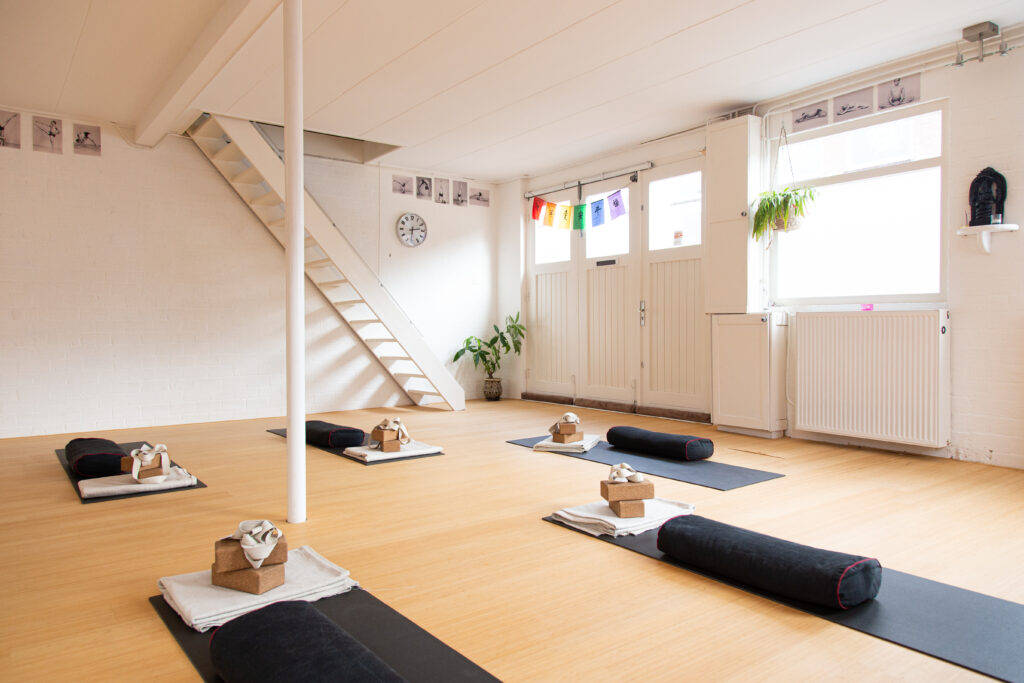 Level 1
If you have no yoga experience or are new to the Iyengar method we recommend that you attend the beginners class. There is strong emphasis on the basic technique and standing poses to build stamina and gain understanding for some of the more difficult asanas. Inversions (shoulderstand etc) are gradually introduced.
Level 2
If you have about 18 months experience you might feel ready to try classes on a more intermediate level. Asanas are held longer here to go deeper and explore. More difficult asanas are practiced such as backbends and inversions (handstand, headstand, shoulderstand & elbowstand).
Level 3
A more experienced level class where a pre-requisite of 3 years minimum Iyengar Yoga experience is required. Timings can be held longer, More advanced poses will be introduced. A pranayama practice is strongly encouraged.
Private lessons
As we are all different with our bodies, minds and conditions, a one to one environment can be very useful to help guide and support the student with their own individual practice. With a private session the student will receive full personal attention from an experienced teacher.  This can be extremely helpful for people who are practicing with a particular injury or limiting condition. There is an opportunity here to ask questions and gain more depth of understanding. This is generally done at the studio, although arrangements could be made for home visitations and for smaller group situations upon request.
Gentle Yoga with the Props
This class is designed with a focus on the use of props and will be especially useful for those who might feel overly challenged in a normal class environment. The pace will be gentle and the props used to encourage the correct work in the pose and at the same time give support. A beneficial class for those also in the 55+ age bracket or for anyone just needing to slow it down a notch.
Mixel level
These classes will be taught according to the average level of the participants. All students should feel welcome here (although raw beginners might feel more at home in a level 1 class).
Variations and adjustments will be given when required with all levels
Workshops
We regularly offer workshops with a variety of qualified and experienced teachers to deepen your understanding and practice of yoga. Alongside this we also bring courses and activities to empower and nourish such as mediation courses, kirtan evenings, lectures on philosophy and ayurveda, communication workshops etc. Keep an eye on our agenda, or follow us on facebook to receive updates, or better yet, sign up for our free newsletter.