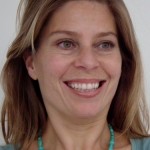 Travelling by sailing boat across the oceans for 10 years made Nancy very aware of the effects of the external world on the mind. When at sea she experienced a feeling of complete focus, acceptance and calmness which was in sharp contrast to the feelings of distraction and unrest when returning to land. Yoga became the tool and path to explore this more deeply.
Yoga gives Nancy new energy daily and simultaneously the focus and calmness to contain this energy. "It enables you to stay active and quiet in everything you do.
Iyengar Yoga with its focus on alignment, integration and therapeutic use ignited the spark that has lead Nancy ever since. After experiencing the advantages of Iyengar Yoga Nancy started teaching in 2010 in Thailand and Holland.
Nancy has completed the 3 year Iyengar teacher training program. In her classes she brings the energy that her yoga practice has brought her, guiding the students safely towards the benefits that yoga brings.